So if you dont like stories, skip past all this and move on to the pictures. This is going to be a LONG post. I use to be a very extremely active member on here and have recently just faded away. Im not a sponsor or anything so nobody porbably noticed but I miss you guys! So story time, going to try and keep this as short as possible. Im going to preface this whole thing by saying I love snakes, and have ever since I was a tiny little kid. It took me moving out of my mothers house, finding this group and meeting the one and only [MENTION=6926]weird_science04[/MENTION] and really being able to dive into what I love. I never could of imagined being where I am at today though and have a lot of mixed feelings about where I am at and what I am doing. So starting about 18-24 months back My girlfriend found a craigslist post of a man seeking help to clean his snakes, and was willing to pay someone to do it! SO, like flies on stink I called him up and left a voicemail. He ended up picking me over about 30 other calls because he said I was the only one who didnt ask about the money. For me, getting to play with 20 large snakes was just awesome! I would of paid him, but shhh he doesn't need to know. SO i showed up and these snakes where healthy, but living in the worste conditions I have ever seen. It is by far no excuse, but the guy does own a very nice car restoration shop and genuinely works very very long hours, which is why he was looking to hire someone to take care of the animals. There was months... and months of molding poop and sheds in every single cage. To begin with he had, roughly 20 to 25 snakes. about 3/4 of those where in 4 and 6 foot cages. I am not kidding when I say the first cleaning took me well over 10 hours. So I went back every week or 2 and cleaned cages, and he paid me. I was in heaven. We did that for about 3 or 4 months and he started talking about breeding when he found out just how much of a snake enthusiast I was. He had tried several years before and because of work had not been successful. So after some serious thought, he decided that with my help, it was time he finally bred. It wasnt until after we bred that I truly found out his intentions. We agreed for the babies that would be born in 2015, because he and I both work 50-80 hour weeks that I would take care of the babies and he would the adults. At this point he is no longer paying me, by my choice. I figured payment would come from babies we sell but I personally was not looking at this as a money opportunity, he was. So come 2015 babies are born I have expanded my amount of pets ( non breeders ). He is big into the albino stuff and as I found out this year, you get what you pay for. He is all about the craigslist buys. He loves trying to find nice snakes for cheap to get them for " a steal ". So 2 females that where suppose to produce snows proved out to be total lies sold to him. 1 proved not het anery throwing a ton of normals and albinos and the other not even het albino or het anery and gave us 25 normals. This is NOT what I signed up for. I have spent the last 3 months having more conversations with people than I care to admit to try and sell these animals to proper homes, but as many people know, the sad truth is there are too many normals that need rescued before new babies can be sold. This whole time of taking care of babies I have not been back to his place to see the adults as im working 60+ hour weeks and another 10+ hours a week just keeping up with my animals and the now 70 snake babies we have. He is constantly texting me these $300 animals he is finding for sale and in August i went over to check on the adults. They where in the same conditions I found them 18 months ago. This guy says he loves snakes but when packing the BABIES up when going to vend at the local reptile show 2 months ago he had to use forceps because he is so FREAKING jumpy and nervous around the snakes. He doesnt get them out and openly admits he is trying to make good money off them. I have tried getting other people involved and they cannot and will not take his animals because poop in cages is not enough to be considered animal creulty enough for snakes apparently. He does feed and water them properly and that about it. SOO... here I am wanting to back out completely but for the sake of these animals I can't I am vending at this and next weekends shows and then the rest will be wholesaled. I got in way over my head with someone who just wants to produce and that is something I am not okay with. He can't even handle is own dang animals without hooking them. I had a very serious conversation with him after going back and finding the adult animals under those conditions and he is taking better care of them now. Scrutinize all you want but I have decided to go one more breeding season with this guy, giving him the benefit of the doubt. A lot has changed in the last 60 days. Because of his work hours he fully knows he cant do this without me, he has nobody else who will deal with the large snakes he has. He is also well aware that I am anal about the overall taking care of the animal and that if he repeats anything I WILL take all of the babies and adults that I can and he will never see or hear from me again. I will report him to animal control and be done with it. He understands there is no excuse for dirty animals and we have worked on finding proper homes for any breeding animal that will produce anything of low quality that we will struggle to find a home for. He understands I want to hear nothing about some craigslist animal someone has as a pet and he wants to buy as a breeder just because its cheap. I won't do it and if he does it HE will be taking care of the babies, NOT ME. I refuse to be a puppy mill for snakes which is what last breeding season turned into and its embarassing for me as an animal lover deeper than I can say or show. As far as this next season, he DOES have a few incredible animals. I have invested in a few of my own and what he doesnt know is that this will be the last year I work with him. He is already underway for this season and has honestly shown a big change, but I have seen that he can revert very quickly. He is doing a lot less pairings this year and the ones he is doing, are much higher quality to where finding homes should not be difficult. I have 2 snakes I have purchased as beautiful breeders for the future for the direction of a personal project I want to do. Im going to make sure these babies from next season are taken care of and then im stepping away from him so that he can no longer breed. I know it sounds silly but its the facts. With this Job being the owner he doesnt have the time to take care of the babies and he knows it more than I do. Last year was his first time in 7 years being able to breed and he openly admits its because he has someone who is taking half the weight. So without me, I like to believe he cannot continue to pump baby snakes into the market that will just end up crammed in a petstore because he wants to buy cheap animals for an attempt at a quick turn-around profit. Im sure this story is all over the place but a lot has happened in the last 12 months. Most of my time after work is spent trying to find homes for these animals and not being here on RTB like I use to. Hopefully this next season will be a much smoother and better one, and then I can part ways and do what I want, properly. So, what say you? Here are pictures of some of his and my stuff for viewing pleasure. Its been a bumpy ride.
Our Pastel Sunglow Male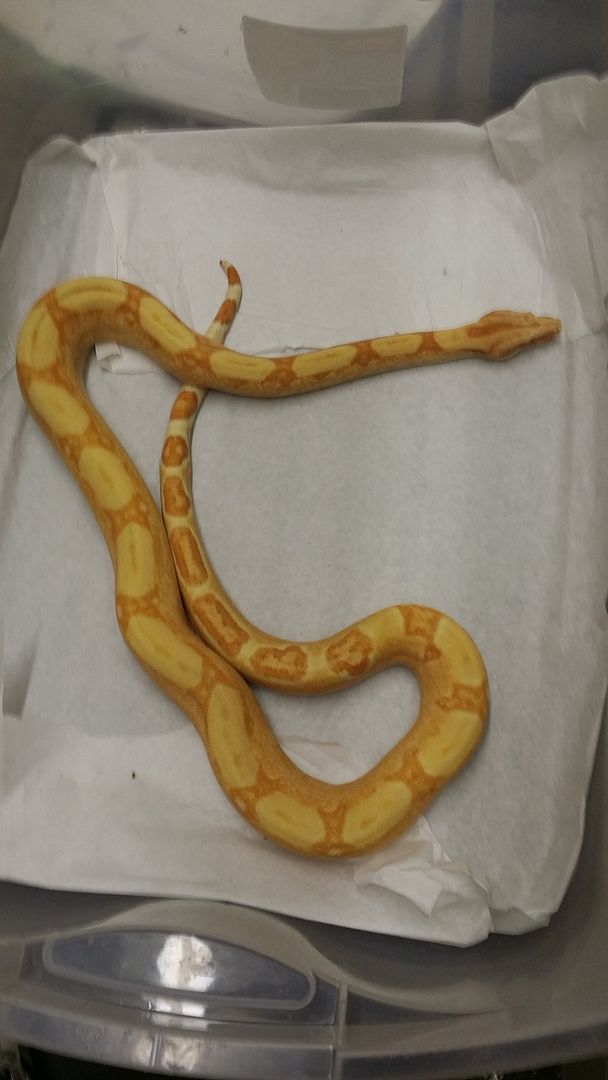 My Pride and Joy Motley Sunglow said to be 100% het anery 66% poss het genetic stripe. This season will tell.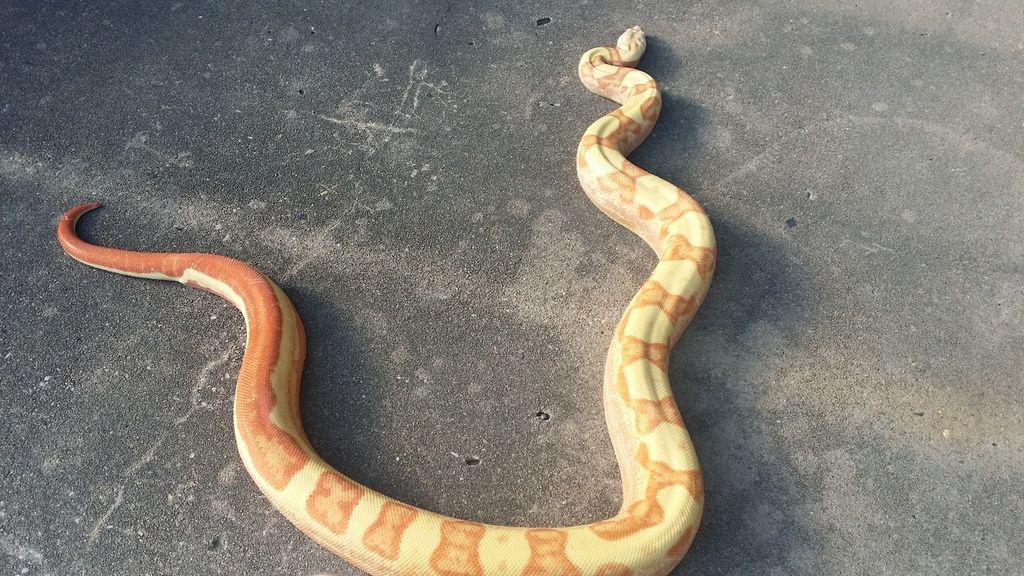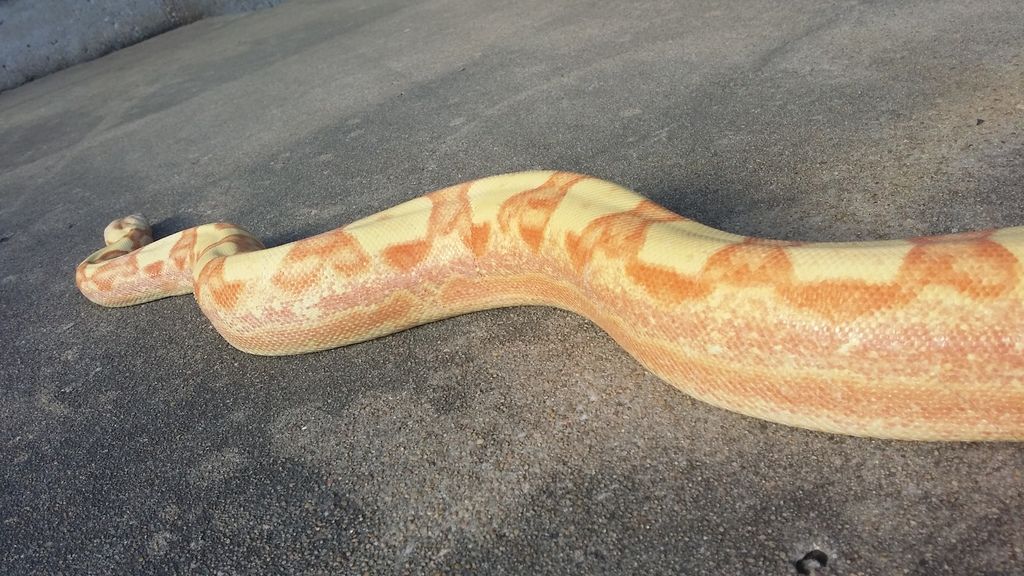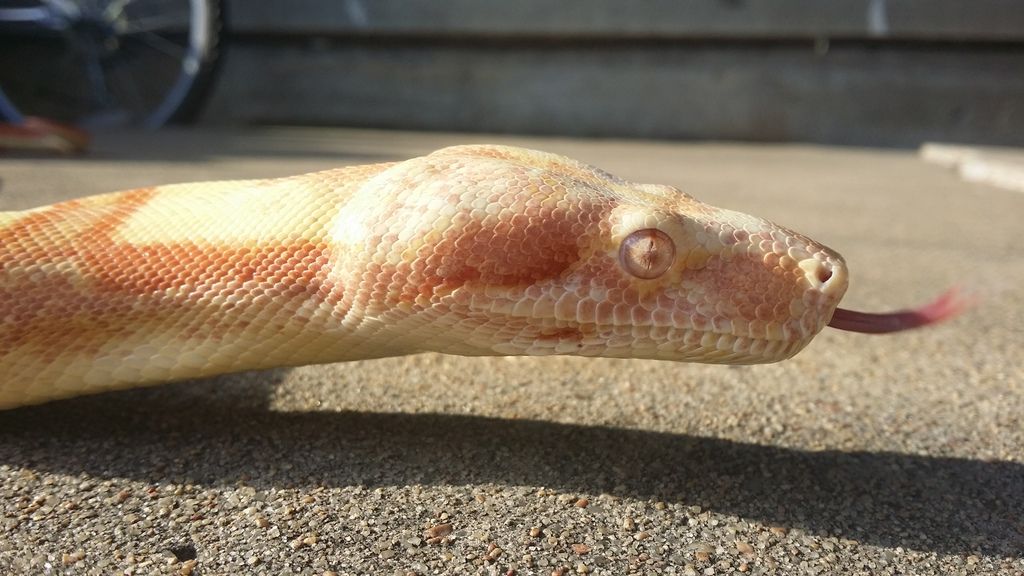 My One and Only Scarlet from Star. This suriname never leaves me without a smile!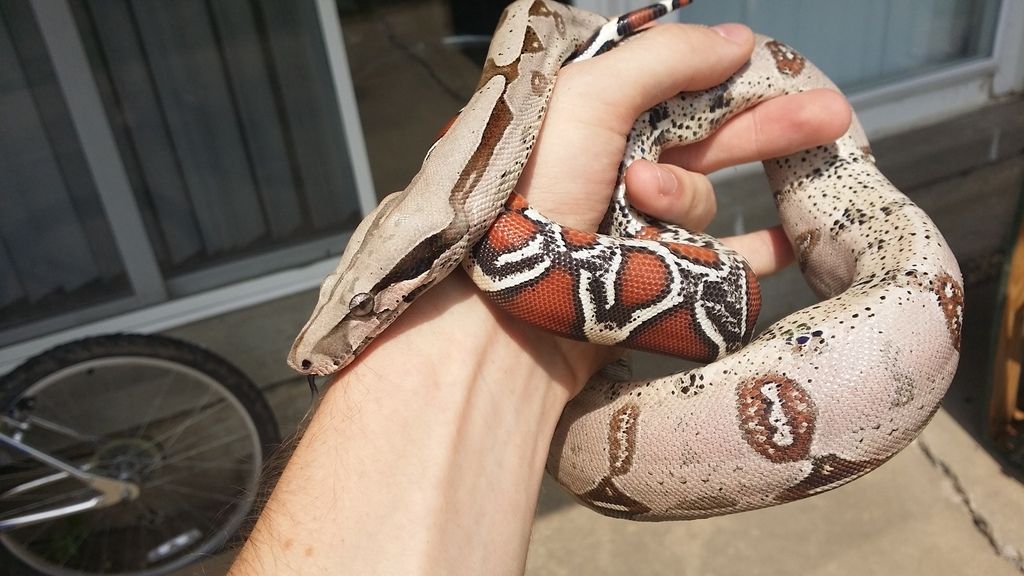 My Guyana, unknown lineage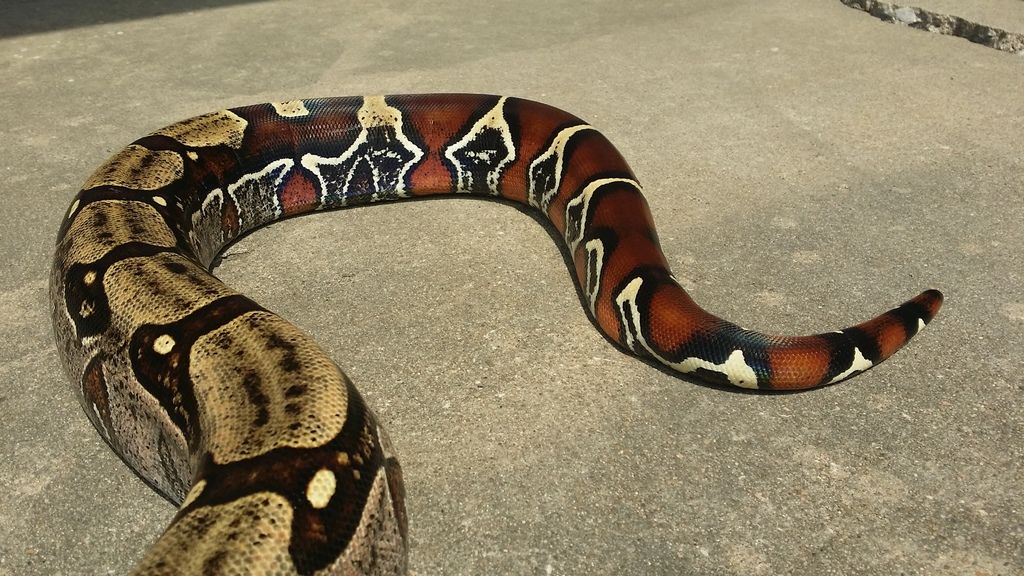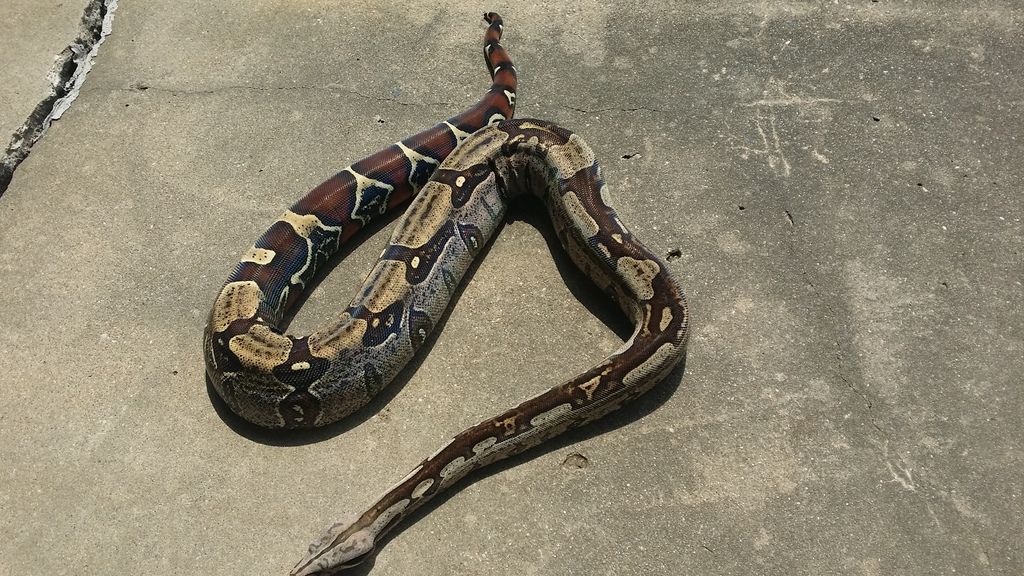 Our Sharp Albino Male that is for sale, cleaning tub shot
His Snow male that looks very similar to His moonglow male, except the eyes are vastly different
His moonglow
Our Snow Motley that after this season he will never lay hands on again, this is an idea of whats acceptable as an alright clean, not to dirty cage. Nothing compared to the others im not willing to show