Ok let me start out with the story behind this little one...
Back in April of this year i did a workshop and taught a PhotoShop Class at a school district that had heard about me...i got paid good money for it and used it towards the family, even though my wife was saying for me to use it however i wanted...i told her, if they hire me for another session i will use that. Well a few months later they called me up and set up another date to teach...i got paid good on that one too and this time i used it to purchase an animal from Jeff Carr...i bought BigMak a reverse Stripe from him...Jeff Purchased it as a breeding project as an adult and it turns out they gave HIM as a HER and he didnt have any use for him...so i ended up buying him.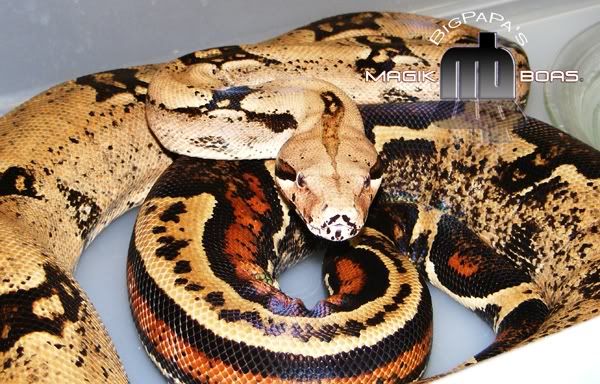 Well he ended up losing a battle with RI. I lost him back about a month ago...i didn't want to tell anyone for the easy common targets of..
1. Does he have something in his collection that is killing them off...so NOW i won't buy form him once he has babies...
2. He doesn't know how to take care of his animals
3. Did he buy him that way from the breeder/seller
People can think what they want...But when i bought him, he didn't show any signs...i don't really want to get into all that happened, so i will let be and let him rest.
I didn't tell Jeff about it cause i felt he didn't have fault in any of it. So when i posted on an anery that was being purchased by Jeff...i said "He has really nice animals and i bought BigMak form him, but he passed away on me" I didn't mean that BECAUSE of Jeff that he passed on...only stating the fact that bigmak is no longer with me.
Jeff read it and asked what had happened...after talking to him about it, he was a bit sadden that he passed on me and that i didn't let him know about it...i told him i didn't want to tell him cause i didn't want to make it seem as i was saying it was his fault...so i just let it be. HE THEN TELLS ME...I KNOW your into Stripes...so i am going to send you this little guy as a condolence for BigMak...He then stated "I take care of my customers" and people...I AM ONE TO AGREE WITH THAT!!! Jeff is as best as they come!
Once again Jeff...THANK YOU!!!
Jeff Carr
WestCoast Constrictors ROCK!
Here is my new addition! (no name yet...but WILL have one soon!)