Ok so i been seeing alot of posts of members asking what you get when you Breed A ???????? X ????????? So i decided to do a quik little tutorial on how to use the OWAL Reptiles Genetic Wizard To Help Some Of The Beginners Understand How To Use It, Hope It Helps..
I had to use the one on the Bhb Reptiles Site to be able to screenshot it cause when i tried screenshoting it from the main OWAL Reptiles Site it was all distorted But it is the same exact Calculator.
When opening the OWAL Reptiles Calculator At The top of the screen you will see it says *Ball* And *Boa* And *Classic* If You Are Trying to Breed Boas You Want To Click On Where It Says *Boa* As You Can See In The Screenshot Below.
After Clicking *Boa* You Scroll Down And Select The Breed Of Boa's You Are Planning One Breeding Together On The Left Side of the screen you will be selecting for The Male Gene, On The Right Side Of the Screen You Will Be Selecting For The Female Gene As shown in the screenshot Below.
As you will notice you will have *Single Gene**Double Gene**Triple Gene* And *Quad+ Gene* If the breed you are planning on breeding is not in the single gene Catagory then you will have to click the catagory your Breed is under, If it is a single gene then click the single gene catagory and select the breed, if it is a double gene then you want to click the double gene Catagory, If it is a triple gene then you want to select the triple gene catagory, If it is a Quad+ Gene then you want to select the Quad+ gene Catagory, As shown in the screenshot below i selected two double gene's.
After you have selected your male and female gene you will scroll down to the bottom of the calculator and you will see some buttons that say *Breed**Clear Male**Clear Female**Clear All* You Want to click *Breed* to see what you Produce, After you have selected Breed the calculator will show the results just below the Breed button, It will show the percentage, The fraction and Traits of what you will get from the gene's you selected as shown in the screenshot below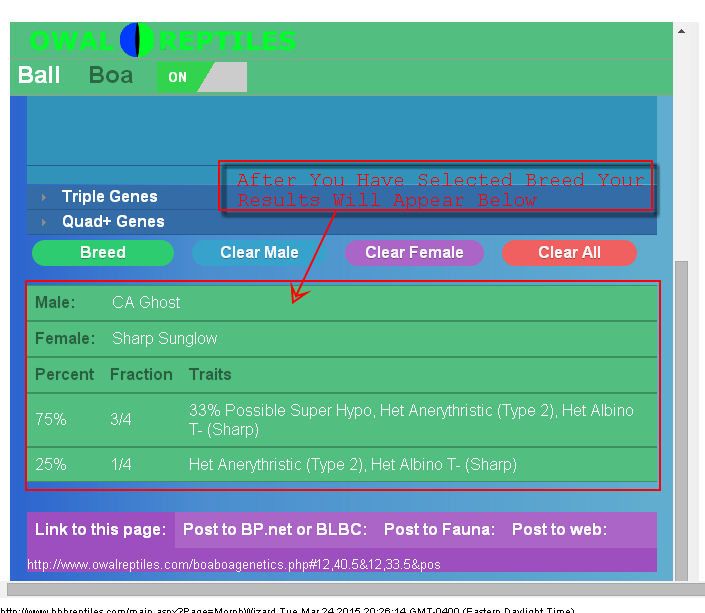 Hope this helped some of you understand how to Use the OWAL Reptiles Calculator, Below is the link to the site if you want to try it for yourself.
OWALReptiles - Calculator