I purchased a cute little Albino Boa a 4 1/2 months ago at a Reptile Show. It was the first time I'd ever been to this show. I got a really good deal on this little girl.... or maybe I didn't.
When I first got this girl, she was "fatter". Now she looks like a skinny malnourshied worm.
The first time I fed her, she was slow to take it, but she took it. She kept it down with no problems.
10 days later, I offered her another meal. She ate it quickly and seemed like she was very hungry. Unfortuantely.... 1 day later she regurged.
I waited 2 weeks to offer her food again. This time I offered a pinky mouse. Again, she at it quickly. She seemed like she was starving!!! Unfortunately, a few hours later... she regurged.
This time I raised the temps a bit. I allowed her 3 weeks to recover and then offered her the smallest pinky mouse I had. She tore into that pinky like she'd never eaten before. Unfortuantely, the next it was regurged.
Now, this was the "3rd" time this girl had regurged. I wasn't sure what to make of it. Her temps were great. The humidity was perfect. She got fresh water daily and I saw her drink frequently.
I opted to wait "4 weeks" and then offer her food again. She wasn't as quick to take it, but she did. She took longer than normal to get it down. Obviously, she was getting weak. She got the pinky down, but....
Yeah, she regurged again!!!
This time I knew this was a problem that wasn't going to go away on it's own. I opted to try another method to try and save her.
I waited "2 weeks" and then I "tube fed" her. She only got 3/10 of a cc. That's about 3 drops of food. I was expecting to see the fluid regurged later, but this time, she kept it down. I gave her another 3/10 cc feeding about 4 days later. She kept that down as well. I continued to see her drinking frequently. She passed a "very small" urate and some fluids from time to time as well.
I gradually got her up to a full 1cc of food at a feeding. I was giving her these feedings "every 4 days". She gradually got stronger. She's becoming more active.
Then, I realized that she'd never deficated!!! Not a single time in 4 months!! I know she had, at least, 1 meal she kept down. So, there should have been "something"!!
Today, I got the answer to "why". Why she's been regurging and why she hadn't deficated.
She had an intestinal obstruction. She wasn't constipated. She was obstructed. Apparently, the breeder I got her from, kept her on "paper". Not newspaper, but that paper bedding that's used for hamsters and other rodent types.
She had ingested some of that paper. It was "blocking" the exit. She was impacted pretty badly too. She never looked like she was large in the rear, like she needed to poo, but aparently she did.
She's a skinny little worm now. I'm hoping she can make it back from this. I hope to offer her some "real food" tomorrow. I saw her drinking again and being more active than I've seen her be in a very long time. She's not out of the woods yet, but at least now... there's hope.
Here's that skinny little worm.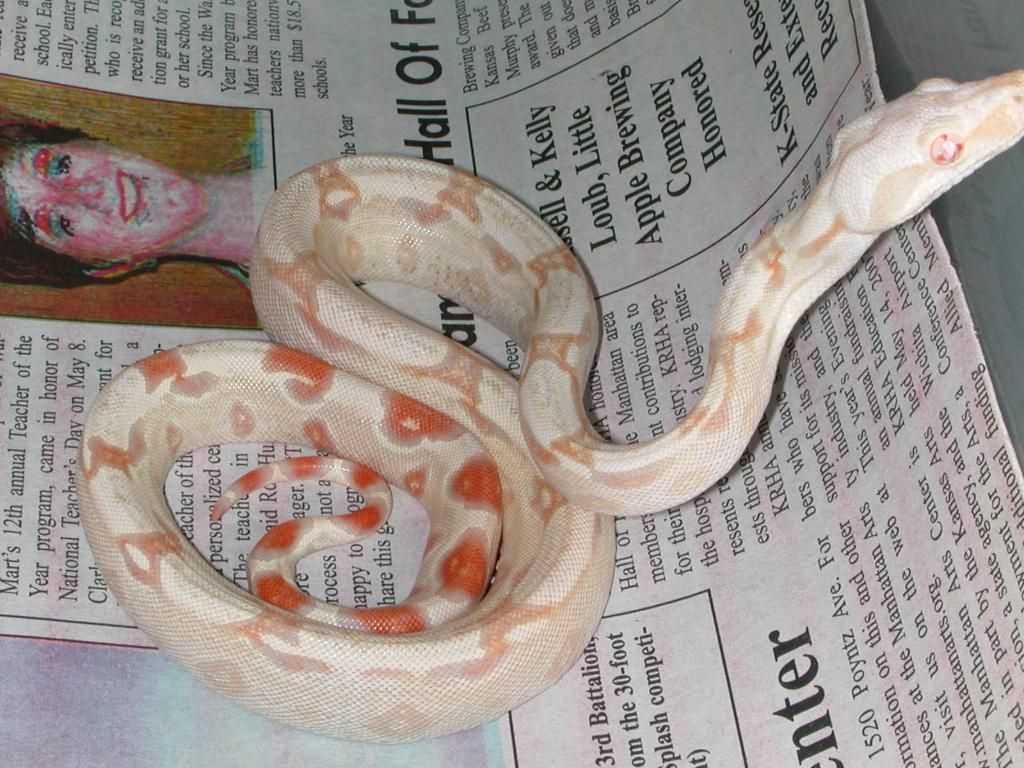 Here's that obstruction that was trying to kill her. You can see the grey paper, that's the bulk of what she passed. Then you can see that brown part, that's the fuzzy mouse she ate that first week. Then you can see she pass a nice blob of urates too.
So, even though I got this girl for a "very good" price. It's been a ordeal trying to keep her alive.
So, the next time you're at a Reptile Show, be sure to ask what substrate they use "before" you make the purchase. It could save you a "LOT" of heart ache.