A friend gave us a 100 gallon saltwater setup and since we had nowhere to set the tank up in our current domicile-it stayed in the shed for a year. Well, as boas tend to do--Samora grew and was cramped in her enclosure so we decided to use the saltwater setup and retrofit it into a snake enclosure. The only problem with that is we still had no place to put it so we took apart our entertainment center and now she is our entertainment! Haha! You'll see....
First, we decided to add shelves...
Here is a picture of the stand--it was originally cherry but the salt had torn it up so I decided to paint it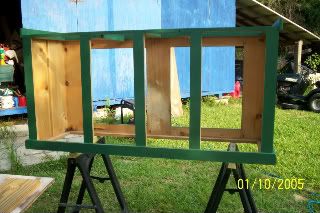 Painting the shelves..
and the inside of the stand...
Moved this monster inside to finish assembly...first the shelves go in
we put braces around three sides to hold the shelf
More to come! Staytuned.....