First start with freshly caught from the Gulf of Mexico Jumbo shrimp--washed and deveined:
Then wash your vegetables-we used cherry tomatoes and mushrooms 'cause that's what we like!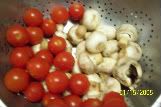 don't forget the purple onions-cut in wedges:
assemble on soaked bamboo skewers--be careful---they're sharp!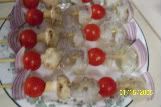 melted butter, lemon herb seasoning and garlic salt for basting:
nice bed of coals (no using gas here) with pecan wood for flavor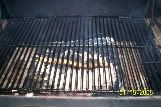 be careful they don't fall through the grate---that's why you use JUMBO shrimp silly!
Baste, baste and baste to taste...
almost but not quite ready to eat...what's missing?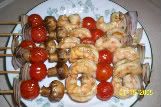 Oh yeah, can't forget the GOOD STUFF! (minus the snake LOL)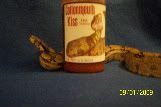 Man, that was GOOD!!!
Hope you enjoyed!