Here are my two little Evil-kins.
Virus. The black tree monitor that lives up to his name. He's a slender little demon. I know these animals are basically "look, but don't touch" animals...but has anybody actually EVER had success taming one of these?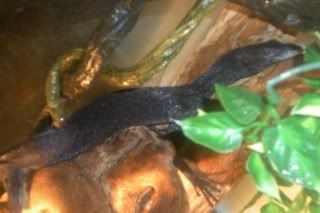 It's hard to get a good picture of him.
Just got him. He was dropping some serious skin...I don't think they're supposed to shed like this, but those were the conditions i obtained him in. He was much younger in this pic, and much smaller.
He calmed down when he was out of his cage. Baby faced Vai. SERIOUS nose rub from his previous cage. =(
Now, this is Danger. He's a peachthroat that bit the shop's manager when he tried to get him out so i could bring him home...When I got home I was expected him to be way more aggressive and way less handleable, but he is actually turning out to be only skittish, scared...not so much aggressive. With the right, gentle handling he's never ever bitten me. I feel like he had a problem with the employee. =(
That is not the face of evil. He is so sweet.
Swimming. =) Two differant days...he always poses the same. haha. so cute. I'd post more but every picture is of him doing this. <3