My girlfriend got this little guy a couple of weeks ago and I forgot to post some pics, well a dart frog post and PappaE's interest in these animals (as evidenced in the Tinley pics posts) reminded me so with no further delay, please welcome Frankie Four Fingers!!!
This one gives a fairly good idea of his colors, they start out black white and blue, as they mature they fade to grey, light grey, teal color
This one is clearer but the colors are off, he's not nearly as brown and green as this looks. They also do seem to change color throughout the day.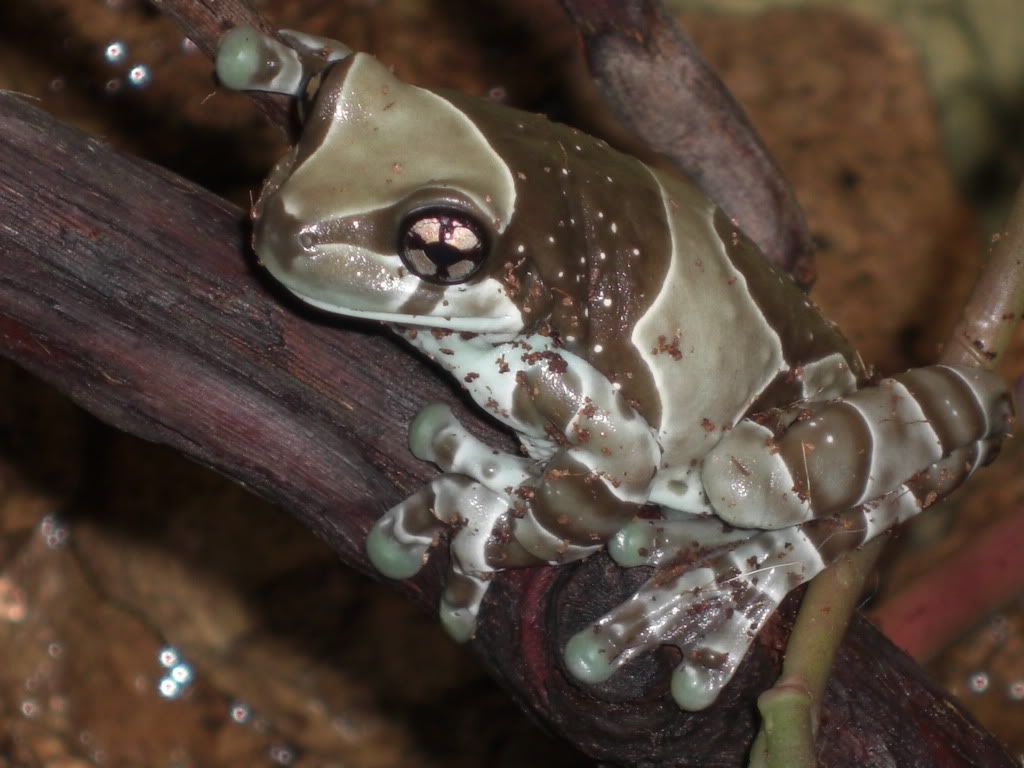 They are really easy to take care of, they don't need any heat lamps or UTH as long as the room is 75 degrees or so, the enclosures don't need to be cleaned extremely often (once a month is good) spot cleaning is a snap. The only thing we have to do everyday with him is misting, but you can set up the enclosure with foggers and auto misters to cut down on maintenance. We have a waterfall and a fogger and mist twice a day. Feeding time (every two days) is great. He's eating crickets right now and they pounce on their prey and sometimes do this really neat mouth wiping thing when they get one. When they get full grown you can feed them...Pinkies!! Is that nuts!? This one doesn't make any noise and is larger than the other ones they had so we thinks it's a female. They are an amazing 'display pet' they move around alot and if you get a male they will call out. They do however secrete a poisonous 'milky' froth when they feel threatened and they are very sensitive to oils, soaps etc... that may be on your hands so handling isn't necessary or recommended, just use a net most of the time, handling occasionally to get a sooper cute, on the finger shot.
Thanks for lookin,
Mat.